Hot Springs Cove: From Tofino via The Whale Centre
|
Hot Springs BC – Unique
Hot Springs in BC are numerous and varied and located over a huge area of the province. Hot Springs Cove is a very unique place to spend some quality thermal time if you ever find yourself on the west coast of Vancouver Island. And while the destination is not as straight forward to get to as some other Hot Springs, the journey is an important part of the Hot Springs Cove Experience.
Hot Springs Cove – Getting There
Before you begin your trip, you will need to book a charter to the Hot Springs as you can only get there by boat or by plane. The last time we went, we booked through The Whale Centre and we thoroughly enjoyed every moment of the experience. To ensure a spot on the charter for the day you are planning to visit Hot Springs Cove, it is important that you book as soon as you can. The person assisting you on the phone will let you know what to expect and what to bring along.
Here a list of the Charter Companies (by sea and air) and their links that run trips out to Hot Springs Cove. You will also find links to some Tourism Websites to help you find places to eat, stay and play in and around Tofino.
Along The Way To The Hot Springs
To get to the Hot Springs you will first need to make your way to Tofino. Tofino is north of
Pacific Rim National Park Reserve
. Make sure you give yourself lots of time in this part of the world. Here you will find rain forests containing huge cedars and Douglas fir trees. In the park there are a number of boardwalks and trails that will help you experience a temperate rain forest.
Want to know a secret? To be let in on a really cool Hidden Place on the west coast of Vancouver Island that not many know about – subscribe to Hot Springs Guide website by ticking the box " and we'll tell you exactly where it is. If you have ever gone to Ucluelet or Tofino or Long Beach, you have driven right past it. We discovered it the last time we were out that way because someone let us in on it. It's free, it's wild and it's amazing!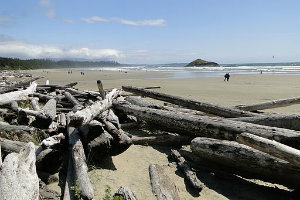 There are many kilometers of wide, beautiful and rugged sandy beaches that are perfect for beach combing. Looking in the tidal pools amongst the rocky outcrops, you will find many weird and wonderful sea creatures to observe. If you are inclined to get into the water, you can rent surfboards and wetsuits in the towns of Ucluelet and Tofino and catch some waves. Lessons are also available. For those just wanting to sit awhile, bring a lunch and find yourself some driftwood to lean against. From your perch you may find yourself watching some whales skyhopping and spouting off shore or some sea lions sunning themselves on a rocky island.

Remember though, if you are stopping in the National Park you will require a park pass or you may receive a ticket. You don't need that complication on your way to relax in the Hot Springs.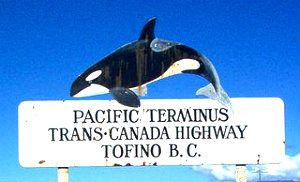 Arrival in Tofino
Once you get to Tofino you will want to get some fixings for a picnic lunch. Our Hot Springs Soak charter with The Whale Centre was about a 7 hour trip (including the time at Hot Springs Cove) and we ate lunch overlooking the Pacific Ocean right at the Hot Springs. Once you've got your grub, hightail it to your charter company. While we older folk took care of the paperwork, our two girls thoroughly enjoyed checking out the museum attached to The Centre.
Voyage to Hot Springs Cove
With our swimsuits, towels, drinking water and lunch in our daypacks, we made our way down to the dock to meet our skipper and get on the boat. The trip out to the Hot Springs was fairly direct to Hot Springs Cove and along the way we saw some sea lions. The captain of  our boat took the time to explain the natural and human history of the area as well as the challenges  being faced. We really appreciated the educational aspects of the trip and were encouraged by the many people actively involved in protecting this part of the world. Upon arrival at the Government Dock at Maquinna Provincial Park, our captain let us know when we needed to be back at the boat for our return trip to Tofino.

Hot Springs Boardwalk
The boardwalk trail itself is about 2 kms long and is a pretty cool and easy trek – though it can be a bit slippery at times. Carved into the boards that make the boardwalk surface you will see names of many boats and people who have made this trip. If you will be returning to the Hot Springs anytime soon, you too can leave your mark. Just ask at the dock about getting one of the thick cedar treads to take home and do your carving magic. If you are a geocacher, you will definitely want to bring your GPS on the trail to the Hot Springs.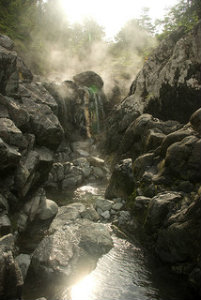 You'll know you are getting close to the Hot Springs when the boardwalk crosses over a very steamy creek. Of course, depending on the wind direction, you may smell it first. At the end of the boardwalk, there is a change house to get into your suit – sorry but Hot Springs Cove is not clothing optional. There are also composting toilets for your and the planet's comfort. Please remember – whatever you pack to the Hot Springs, you need to pack out.
Hot Springs, Humpbacks and Orcas
The hot (50 degrees C hot) water spills from the creek over a waterfall into a number of rocky pools that make up the Hot Springs. As you get closer to the ocean, the water gets cooler until you are right at the ocean's edge and the Hot Springs' water is mixing with the sea water with each ocean swell. For maximum heat, make your way back to the waterfall to be pummeled as the water freefalls onto your head and shoulders.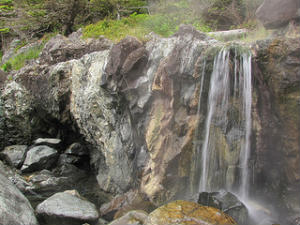 Don't forget to enjoy your picnic lunch while taking in the wild and natural views all around you. But don't be taking too long because you will definitely want to get back into that water before its time to head back to the dock and your boat. While you were soaking, your skipper was more than likely on the radio checking with home base as well as all the other charter operators to find the best route for wildlife sightings. On our trip from Hot Springs Cove back to Tofino with the Whale Centre, we were lucky enough to see a humpback whale, two orcas and a number of sea otters. It was a fantastic and wondrous trip and we certainly recommend it for the whole family.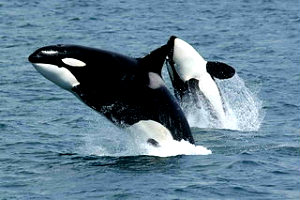 If you ever do find yourself on Vancouver Island (and everyone should at least once in their life), you owe it to yourself to make the trip up the coast to Tofino and get to Hot Springs Cove, a very unique BC Hot Springs. And if you can, take your time on the journey and explore the natural, wild beauty of the place.
Interesting Tofino Note
On my first couple of trips out to Tofino in the very early 80's, down by the Co-Op there was a cool little bakery. It was a busy place and often when there was baking to be done, no one was out front to collect your money when buying the delicious bread and buns. There was however a bowl with a bunch of change in it. You would put your money into the bowl and if you needed change you would fish it out. Now THAT was cool. That bakery, The Common Loaf, has moved to a newer location now and you really need to check it out. Alas, the change bowl is gone but you can't beat the baked goods.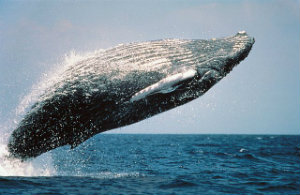 Share Your Hot Springs Cove Experience
Have you been to Hot Springs Cove? We would love to hear about your experience and share any photos you may have with your fellow Hot Springs Enthusiasts.
Updated March 5, 2014