Radium Hot Springs – Sort of… Thanksgiving 2013: Part One
|
Radium Hot Springs BC
Why Redstreak? It's a Short Hike to Radium Hot Springs.
To celebrate Thanksgiving (October 14, 2013 in Canada) we decided to pack up the kids, the tent and our new superthick Thermarests and head off to Kootenay National Park in British Columbia. Thanksgiving is traditionally the last weekend of camping at Redstreak Campground and it opens up again in May.
We like Redstreak because the tenting sites are large and well-treed and the two girls have lots of trails to keep their feet and wheels busy. Oh… and one more thing, it's a short hike to Radium Hot Springs. The Hot Springs at Radium are nestled down between cliffs along Highway 93. While soaking in the hot pool at Radium you can often look up and watch the Rocky Mountain Sheep effortlessly (and seemingly magically) move along the high and near vertical cliff faces. Being near the Pacific Ring of Fire means Hot Springs BC! There are plenty here.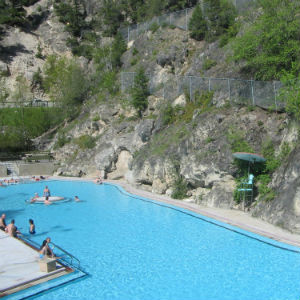 A Very Large Hot Pool and a Full Sized Cool Pool For Swimming
Radium Hot Springs also has a very large cold pool that is utilized by some members of our family to swim laps. I don't really see the pay-off in that kind of foolishness. But I'm not one to judge. I do enjoy sitting on the lounge chairs poolside to absorb the all important Vitamin D though. There is a snackbar and store on-site with a large number of tables in a covered area. This hot springs is a great place for the whole family to pack a lunch and spend the whole day. And its large enough for you to be able to find your own quiet spot and enjoy your own quiet solitude.
Sooo… back to camping. We renewed our annual National Park Pass at the East Gate of Banff National Park. The helpful Gate Guy (non-gender specific term though in this instance the Gate Guy was, in fact, male) checked availability of sites – no prob! On we went through Banff NP, turned south and eventually got to Redstreak Campground in Radium. As far as more opulent accommodation goes, there are many very nice Radium Hot Springs Hotels. An added bonus is that they may give you free admission into the hotsprings. But we love our down bags and those thick Thermarests – so we tent.
Everyone Has Jobs to do When Setting Up Camp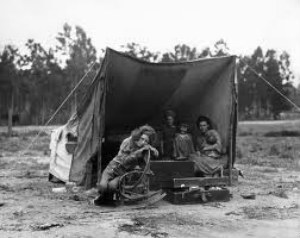 It was self check-in and in the waning light we saw that, because of the lateness of the season, there was only one loop open and those sites were the fully serviced ones. We found one with a great spot that fit our tent's footprint and got at it. In no time the tent was up, beds made up, fire fired up, food cooked up and our feet were up. We had a great sleep. Apart from the snorting and cavorting of the elk passing through.
When we went to pay for the campsite at the gate we were asked "Oh, you are the guys (non gender specific again) in the tent?" It was one of those cases where even though it sounded like a statement – it was really a question. Sometimes we get asked this because people are a bit surprised we like to tent when it is a little cooler. Sometimes we get asked this because we keep such a neat and tidy campsite. In this case it was to let us know that we needed to move on.
See Radium Hot Springs – The Unexpected  Part Two