Radium Hot Springs – The Unexpected Turn of Events… Thanksgiving 2013: Part Deux
|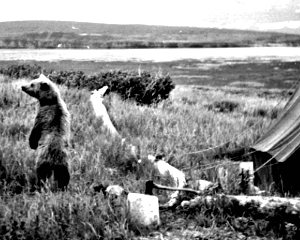 Continued From Radium Hot Springs – Sort of… Part One
Radium Hot Springs BC
In Part One we had just arrived at Redstreak Campground the night before. The following morning we went to the front gate to pay our fees before hiking to Radium  Hot Springs on the other side of Town. We had just been informed that we needed to pack up our tent and leave.
Our Walk to Radium Hot Springs was a Journey Interrupted
It seems that the week before a black bear had been seen roaming through the campground. This is by no means unusual for those who live and play along the spine of North America. We live in bear country ourselves and know that almost every spring and fall we can expect visits from bears either moving up to the higher elevations in the springtime or coming down in the fall. We take precautions both at home and while camping we make sure that we have:
Food locked-up in the vehicle
All cooking supplies and gear likewise secured
Garbage properly disposed of into the bear-proof receptacles
We change into our jammies in the shower house and leave our camping/cooking clothes in the vehicle
No lotions, toothpaste or Eau de Legs of Lamb in the tent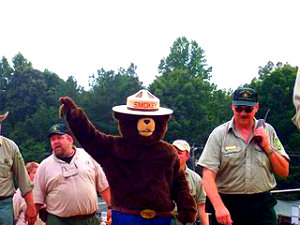 The Most Dangerous Bear
The Parks People know their bears. And the last thing they need to do on the last open weekend at Redstreak Campground in Kootenay National Park, within walking distance to Radium Hot Springs is to have to spend a couple of hours filling out reports about the latest bunch of arrogant, know-it-all campers that just got et instead of heeding their warning. I once spent some time with an oldtimer who explained to me all about bear sign. Scat. Poop. He told me about the bigger piles that seemed to have more substance to them due to roots and tubers… grizzlies. Then the slightly smaller pile, usually with a lot of color from fruit and berries… blacks. Then he told me about the most dangerous bears and what to look for. If you saw any buttons and a bell or two and if it smelled like pepper what you have there is a habituated bear.
The bear that had been sniffing around Redstreak had decided to try and get into a tent. Now that is a habituated bear. The campground was allowing trailers and campers but asking anyone with a tent or tent trailer to leave. There was, we found out, a notice posted to the side of the washroom but we had missed it in our haste to set up the night before. We understood their cautious reasoning perfectly well and went back to camp to pack up. Disappointed but rather glad not to got et. And yes, that is how he spoke. He could also tell the time (within about 5 minutes just by looking at the sun and its distance from the horizon. But that, as they say is a whole different story.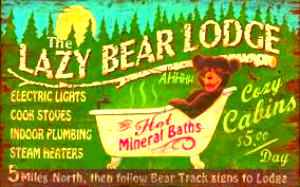 (Our) Home (Was) on (His) Range
The Redstreak people were kind enough to check Banff and there were plenty of tent sites available. And yes, of course, Tunnel Mountain Campground is not too far from the Banff Hot Springs. Now I don't know about you but packing ALWAYS goes faster at the campsite than at home. With the added incentive of a nice hot soak surrounded by the Rocky Mountains a relatively short distance up the road is even more encouragement.
As we were getting closer to Radium Hot Springs we were considering whether to stop in for a quick soak or to get to Tunnel Mountain Campground in Banff National Park, set up camp and then have a longer, even more leisurely respite in the Banff Hot Springs. We decided on the latter. So as we said goodbye to Hot Springs BC, we said hello to Hot Springs Alberta and to Banff Upper Hot Springs in particular.