Banff Upper Hot Springs – Fines, Tickets and Tows: Thanksgiving 2013… Part Three
|
Continued from Radium Hot Springs – The Unexpected… Part Deux
Banff Upper Hot Springs – Finally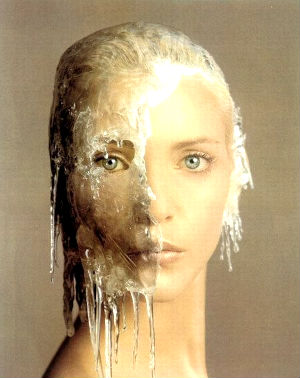 Tunnel Mountain Campground
As soon as the Hot Springs Guide crew arrived at the Tunnel Mountain gate we got checked in and were informed that it might be a bit noisy that night. There was a group of campers that were really rather… um… social. And although their music was quite good – it was also quite loud. The gate people said that this was their first time camping. Not this season. First time ever. The forecast called for below freezing temperatures. This sounded like it may be interesting.
Up to Banff Hot Springs
Camp was set up in record time and off we went to the Upper Hot Springs. As mentioned in Part One, Radium Hot Springs is nestled at the foot of some substantial hills and cliffs. Unlike Radium, Banff Upper Hot Springs is perched on the side of Sulphur Mountain and overlooks Mount Rundle, a very distinctive mountain south of the town of Banff. The restored 1930's era bathhouse is a short walk from the parking lot. Inside there is a gift shop, a spa, a restaurant and of course the changing areas. It is wheelchair accessible as there is an elevator inside.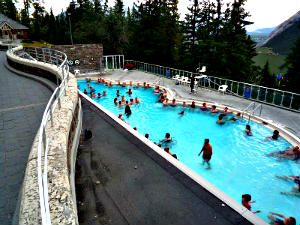 The hot pool is not as large as Radium, nor is there a cool pool in which one can swim. But that view just can't be beat and the bath house has been very nicely restored. This is a popular place all year round, though you should still be able to stake your own bit of thermal aquatic real estate without too much trouble. As Banff is a very international destination, if you are a polyglot you will have plenty of opportunity to practice your skills at Banff Upper Hot Springs.
Post Hot Springs Soak – Sweet Slumber
Hitting the sleeping bags in the tent after a lengthy soak is definitely the way to go when it is cold outside. Starting the nocturnal restorative cycle with a surplus of thermal energy is a good thing in the mountains. We got back to camp around ten and decided to retire right away. We usually go to bed fairly early when we are out and about and so we are used to falling asleep to some noise from other campers who don't require as much beauty sleep as we do.
We were surprised, however at the number of car alarms going off and the frequency with which each was being activated. The music was still pleasant though. And there were no waves of whoops which were so evident at the Rainbow Family Gathering all night drumming circle(s) this July in Montana. Ah yes… the whoops.
$500 Fines, Court Appearances and the Impounding of Many Vehicles
I think it was about 2 am when the police arrived and began taking the neophyte campers away. At the same time the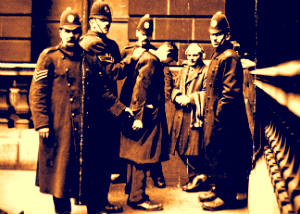 tow trucks were hauling quite a number of vehicles away. It was an interesting turn of events but certainly not interesting enough to keep me awake. It wasn't like a bear was in the neighbourhood or anything. We found out in the morning that there were quite a few $500 dollar fines handed out and it was rather sad to see some of the newly purchased camping gear sitting in the bear-proof trash container.
Giving Thanks
For Thanksgiving dinner we roasted a chicken in the big stove in one of the cook shacks which I was told was very tasty. My chicken analogue made from some kind of vegetable protein was texturally pleasant. After our early dinner we hung out at the campfire. Avoided the melting of various footwear. And just generally enjoyed each other's company. Of course we finished off the day by going back to the Banff Upper Hot Springs before turning in. There is something very special about this experience of the Hot Spring. It is difficult to become stressed or maintain any level of angst while quietly taking stock of the world around you, immersed in those waters. In thinking about this while writing this post it struck me… a missed opportunity. I should have invited all those cold and shivering campers for a soak. Every last one of them.
I could have saved them a bundle this Thanksgiving. And all I would have wanted in return was that CD.